Selling Hot Dogs in Rochester, NY
In operation since 2009, Harladay Hots is a daily food vending cart serving lunch to people in the village of Pittsford. With a focus on quality, service and taste, hot dogs and sandwiches are available -- quick and tasty!
Harladay Hots is located at 10 North Main Street, Pittsford, NY from the beginning of May until the end of October. Lunch hours are Monday through Friday from 11:00 am to 2:00 pm, weather permitting.
Check out our menu for full offerings and prices.
We are also available to cater parties, corporate events and special occasions. See our catering options and contact us today to reserve your party dates.
Stop by and say hello to Charlie, Harladay Inc. President, who is fulfilling a dream of becoming a hot dog vendor.
"My mission is to deliver hot, delicious, fast food to my customers. Service with a friendly smile and hopefully good conversation and maybe a joke or two." -- Charlie Clottin
Catering Services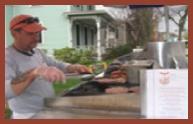 At Harladay Hots we offer a full line of old-fashioned vending cart favorites. Have Harladay Hots add charm and personality to your next catered event with delicious food for you and your guests.

We offer four catering options that can each be customized to meet your needs.

Make your next event special and the talk of the town. Call today to discuss options and reserve your date.
---
Option #1 Open
Cost: averages $12.00 per person.

Unlimited open grill of hamburgers, hot dogs, sausage. Unlimited soda and water.

Choice of macaroni or potato salad or chips.

Onions and peppers, meat hot sauce, American cheese and condiments.

Paper products included.

2 hours service. Minimum party size 30. Prices may differ for parties over 100.
---
Option #2 Single Item
Cost: $150 equipment/service charge plus $4.50 per person.

Choice of hamburger, hot dog, or sausage along with beverage and chip.

Toppings and condiments included.

Paper products included.

2 hours service. Minimum party size 30. Prices may differ for parties over 100.
---
Option #3 Ala Cart
Cost: $175 equipment/service charge plus discounted menu selections.

All food items supplied are paid for per item at discounted rate per current market value.

Paper products not included.

2 hours service.
---
Option #4 Service
Cost: $175 for equipment and staff for 2 hours service.

Client provides menu and beverage items, condiments, paper products.

*Certain restrictions apply*
---
Options and catering packages vary as per request.
Available Grill Menu Items
Zweigle's Hot dogs
Zweigle's Italian Sausages
Angus Beef Burgers
Sabrett Hot dogs
White Meat Chicken Fillet
Hog Plates
Eggplant Parmesan
Ribeye Steak
Portobello Mushrooms
Hog Plates
Additional Menu Selection Items
Macaroni Salad
Potato Salad
Baked Beans
Chips
Very own Meat Hot Sauce
Peppers and Onions
Relish, sauerkraut, etc.
Condiments
Soda
Bottled Water
Cookies
Brownies